Key Takeaways from CES: The Tech Trends Shaping 2023 and Beyond
This year's Consumer Electronic Show (CES) had an estimated 115,000 attendees and over 3,000 exhibitors. Great to see the comeback after the 2022 CES with only 45,000 attendees and 2200 exhibitors. Compare this to 2020, when CES hosted 4419 exhibiting companies and attracted a total attendance of 171,268.
Looking back at CES 2023, it was a week of incredible innovation. As always, CES is an opportunity for companies to demonstrate how they envision the future of tech with new product launches and industry-first announcements that will shape 2023 and beyond – from consumer electronics to automotive and everything in between.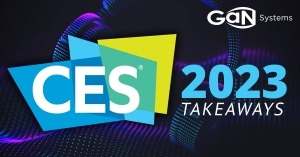 Automotive Takes CES by Storm
Technology is transforming the future of mobility. From flying and color-changing cars to new electric vehicle (EV) offerings, advances in autonomous driving (AD) and advanced driver assistance systems (ADAS) to innovative connectivity-driven offerings, it was yet another reminder of how dramatically the automotive industry is transforming into an era defined by electrification and software.
Some 300-vehicle technology companies turned CES 2023 into one of the largest auto shows in the world. The event was marked with announcements about the future of mobility. For example, Sony indicated that its Honda Mobility car would be called the Afeela electric sedan and use Honda, Epic Games, and Qualcomm technology.
We showcased our GaN inside an in-production EV Onboard Charger (OBC) and a new high-power density 400V/800V EV DCDC Converter. The OBC is a significant development, as electric vehicles rely on these devices to convert AC power into the DC power that charges the EV battery. We displayed the 7.2 kW OBC from Canoo, a leading high-tech advanced EV company producing vehicles for Walmart, the United States Army, and many others. We also unveiled GaN-powered vehicle DC/DC converters that bridge the high-voltage battery pack with the low-voltage auxiliary circuits. Auto engineers have designed electric vehicle power solutions with GaN Systems 650V transistors to meet size and weight requirements and operate in 800V battery bus architectures—demonstrated by auto leaders like Vitesco Technologies.
CES Innovations Spanned High-Growth Markets
Innovations at CES 2023 went well beyond automotive and e-mobility—and spanned rapid growth sectors where GaN power semiconductors are becoming entrenched, such as audio sound systems, chargers, and more.
Majeed Ahmad, Editor-in-Chief of EDN and Planet Analog at AspenCore, got it right when he wrote, "GaN is still a new technology, and it's rapidly diversifying in terms of applications. CES 2023…was a perfect venue to find out where GaN semiconductors stand regarding target applications and market penetration."
GaN Audio Amazed the "Golden Ears"
A revolutionary GaN-powered product for the audio industry demonstrated at CES this year was unbelievable-sounding GaN-powered WiFi speakers from Daniel Hertz. These speakers, designed by founder and audio legend Mark Levinson, deliver pure analog sound from digital content, including streaming. Together, Daniel Hertz and GaN Systems provide the first high-performance speakers in the industry with a small form factor and near-perfect analog sound from all media sources.
We also unveiled a next-generation 1000W Class-D GaN audio amplifier in partnership with Axign, designed to deliver breakthrough analog/mixed-signal technology and ICs for audio amplifier systems. The new design merges GaN Systems' best-in-class GaN power semiconductors with Axign's audio amplifier controller, enabling unique audio systems that are smaller, sleeker, and more efficient and deliver unprecedented audio quality.
Key Takeaway Summary
Big picture, CES was illustrative of entire industries moving in a critical new direction whereby technology is getting smaller, reliance on battery power is growing, and sustainability is driving design and buying decisions. These translate to requirements for increased power density, lighter weight, and higher efficiency, which are all the benefits derived from the use of GaN power semiconductors, a perfect match.
https://gansystems.com/wp-content/uploads/2023/01/CES-2023.jpg
628
1200
Tyler Angelo
https://gansystems.com/wp-content/uploads/2023/10/gan-logo-infineon-tag-fc.png
Tyler Angelo
2023-01-12 17:44:13
2023-06-20 10:47:22
Key Takeaways from CES: The Tech Trends Shaping 2023 and Beyond