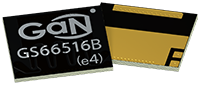 GS66516B
650V Enhancement Mode GaN Transistor
The GS66516B is an enhancement mode gallium nitride (GaN) on silicon power transistor. The properties of GaN allow for high current, high voltage breakdown and high switching frequency. GaN Systems implements patented Island Technology® cell layout for high-current die performance & yield. GaNPX® packaging enables low inductance & low thermal resistance in a small package. The GS66516B is a bottom-side cooled transistor that offers very low junction-to-case thermal resistance for demanding high power applications. These features combine to provide very high efficiency power switching.
Ultra-low FOM Island Technology® die
Low inductance GaNPX® package
Easy gate drive requirements (0 V to 6 V)
Transient tolerant gate drive (-20 / +10 V)
Very high switching frequency (> 10 MHz)
Fast and controllable fall and rise times
Reverse current capability
Zero reverse recovery loss
Small 11 x 9 mm2 PCB footprint
Source Sense (SS) pads for optimized gate drive
Dual gate and source sense pads for optimal board layout
RoHS 6 compliant
High efficiency power conversion
High density power conversion
AC-DC Converters
Bridgeless Totem Pole PFC
ZVS Phase Shifted Full Bridge
Half Bridge topologies
Synchronous Buck or Boost
Uninterruptable Power Supplies
Industrial Motor Drives
Single and 3Φ inverter legs
Solar and Wind Power
Fast Battery Charging
DC-DC converters
On Board Battery Chargers
Traction Drive
EVALUATION BOARD: GSP65RXXHB-EVB
High Power IMS Evaluation Platform
This Insulated Metal Substrate (IMS) evaluation platform can be used to evaluate the electrical and thermal performance benefits of GaNPX® E-HEMTs on an Insulated Metal Substrate for high power applications. The platform consists of a motherboard and separate Half bridge IMS modules (3kW and 6kW).
These assemblies can be configured into any of 12 different topologies, architectures and operating modes. The IMS Evaluation modules can also be purchased independently for use as a high power GaN intelligent power module (IPM) to be used with the designer's own board for in-system prototyping.
IMS Platform Motherboard
GSP65MB-EVB
IMS Evaluation Modules Half Bridge with Gate Drive
GSP65R13HB-EVB: 650V/13mOhm, 4-7kW
GSP65R25HB-EVB: 650V/25mOhm, 2-4kW
Half bridge/Full bridge Configuration Options
Configuration options