GaN Systems to Exhibit Groundbreaking GaN-Powered Innovations in Consumer Electronics, Audio, and Electric Vehicles at CES 2023
OTTAWA, Canada, December 15, 2022 – GaN Systems today announced a sneak peek of innovative GaN-Powered products to be exhibited at CES® 2023. The award-winning leader in GaN power semiconductors will highlight the latest customer implementations in consumer electronics, audio, and electric vehicles. GaN Systems will be exhibiting in Suite #1232 at the Renaissance Hotel, next to the Las Vegas Convention Center South Hall.
At CES 2023, GaN Systems will be showcasing the following:
Wi-Fi speaker from

Daniel Hertz

, founded by Mark Levinson

Mobile phone and notebook PC industry-leading chargers and adapters

Coolest 1000W Class D audio amplifier

Electric vehicle on-board charger used in several vehicles

High-power density 400V/800V EV DCDC converter

Innovations in e-mobility, lighting, and shrinking power supplies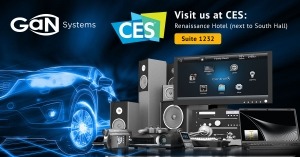 Innovative and Exceptional WiFi Speakers: In a significant development for the global audio industry, GaN Systems will unveil unsurpassed-sounding GaN-powered WiFi speakers from 

Daniel Hertz,

personally designed by founder and audio legend Mark Levinson.

 The high-performance WiFi speakers marry GaN Systems' 

Class-D high-performance GaN FET amplifier boards

 with Daniel 

Hertz's

 Mighty Cat front end IC with embedded next-generation Daniel Hertz C Wave technology that enables pure analog sound from digital content including streaming. Together

, Daniel Hertz and GaN Systems are delivering the first high performance speakers in the industry with a small form factor and near-perfect analog sound from all media

.

Mobile Phone and Notebook PC Industry Leader Chargers and Adapters: Mini-chargers and ultra-thin power adapters for ultra-fast charging and super-portability have become a consumer requirement for devices ranging from phones and tablets to laptops and gaming systems. Design, utility, and energy efficiency have evolved from premium offerings to everyday requirements. GaN Systems will showcase an array of next-generation 30W to 280W chargers from leading brands, including

Samsung

,

Dell

,

Razer

,

and

Philips

.
The "Coolest" 1000W Class D Audio Amplifier: GaN power semiconductors are transforming the audio market with superior sounding, higher-performance, smaller, and more efficient

Class D audio systems

. GaN Systems will showcase the most astonishing 1000W Class D audio amplifier with its partner,

Axign semiconductor. Dubbed "Coolest" due to its ability to run cool, deliver 1000W 1 Ohm PBTL at 50V or 2 Ohm PBTL at 70V without a heatsink, and it's simply a "cool" design.

In Production, Electric Vehicle Onboard Charger: Electric vehicles rely on an On-Board Charger (OBC) to convert AC power into the DC power that charges the EV battery. At CES 2023, GaN Systems displays the

7.2 kW EV on-board charger (OBC) from Canoo

,

a leading high-tech advanced EV company producing vehicles for Walmart, the US Army and many others.

High-Power Density 400V/800V EV DCDC Converter: Electric Vehicle DC/DC converters bridge the high-voltage battery pack with the low-voltage auxiliary circuits. Automotive engineers, recognizing the value of multi-level topologies, have designed EV power solutions with GaN Systems' 650V transistors to meet size and weight requirements and operate in 800V battery bus architectures. Automotive leaders like

Vitesco Technologies

demonstrate these performance advantages.
E-mobility, Lighting, and Shrinking Motor Drive:

Government policy and consumer demand – fueled by the climate crisis – are accelerating the need for more eco-friendly power solutions. GaN Systems' customers are responding in full force with many innovative designs in production reducing overall demand for fossil fuels while making their products easier to use. 

Increased Demand for More Data and Power Combined with Sustainability:

The switch to GaN System's power transistors demonstrates increased performance for products with power levels from 800 Watts to 6kW to deliver substantial operating, financial, and environmental benefits. GaN Systems will showcase products, including the xFusion 3kW PSU, the world's first 100W/in

3

 with 80 Plus Titanium efficiency solution.
GaN Systems will demonstrate the latest designs and products in power supply, wireless power, audio, and automotive solutions in suite #1232 at the Renaissance Hotel, next to the Las Vegas Convention Center South Hall. Please email katherine@triercompany.com to schedule an editorial briefing with GaN Systems.
https://gansystems.com/wp-content/uploads/2022/12/CES-2022-v3.jpg
628
1200
Tyler Angelo
https://gansystems.com/wp-content/uploads/2018/02/gan-systems-logo-fc-340x156.png
Tyler Angelo
2022-12-15 12:45:09
2023-08-09 09:18:47
GaN Systems to Exhibit Groundbreaking GaN-Powered Innovations in Consumer Electronics, Audio, and Electric Vehicles at CES 2023