50X
HIGHER WIRELESS POWER TRANSFER
65W USB-PD Fast-Charging 2C1A Charger

Power

3 AC power sockets
2 USB-A, 1 USB-C ports
Charging
65W fast-charging
Supports PD/QC dual fast charging protocol
Amplifier
200W/Ch (8Ω), 300W/Ch (4Ω)
< 0.01% THD+N (8Ω, 1W)
+/- 0.5dB Freq. Response (8Ω)
SMPS
Universal AC Line Input
400W Continuous, 550W Peak
High efficiency, no heatsinking
INDUSTRIAL
MOTORS, SOLAR, ROBOTICS & MORE
High output power
Increased efficiency
Faster motor response time
Integrated filter
Braking chopper deactivation for battery energy recovery
Compact design, 10X smaller
High 10 kW output power
Fast analog modulation
Low current ripple and overshoot
High efficiency
DATA CENTER
&

5G

SAVE ENERGY COSTS, INCREASE REVENUE
3 kW PSU
50% power density increase
Efficiency >97%
Intel CPRS chassis
Integrated DC/DC on board Power Stage
Driver GaN Half-Bridge micromodule
Use in CPU/GPU/DDR 48V primary side DC/DC
Datacenter 48V-12V Bricks and Board POL
Achieve highest power density and efficiency
Through-window Wireless Power Transfer
>85% efficiency DC to DC
1/4th size vs. low freq. option
Power penetrates Low-E glass
Through-wall Wireless Power Transfer
65W received, 2X other solutions
>80% efficiency DC to DC
Wall gap >200mm
AUTOMOTIVE
FAST CHARGE, LONG RANGE, LIGHT WEIGHT
On-Board Charger
&

DCDC Converter
System Features
High power density
Efficient thermal management
High output power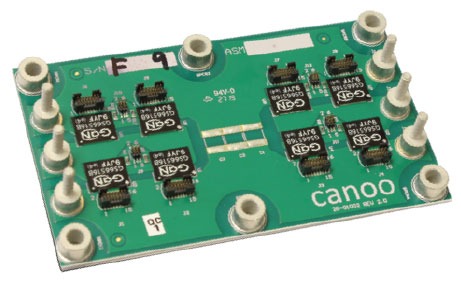 High Power IMS platform
Low cost thermal solution
Ultra low inductance
High performance switching
Inverter
2X switching frequency
High power density
40% reduction in power loss
High Power Modules
650V, 300A Half-Bridge
Integrated Isolated Gate Drive
Embedded module
Low inductance, construction
Moving a design quickly from concept to production is highly desired. GaN Systems develops solutions internally and with industry partners so customers can design systems more quickly with high confidence. You can find these and more at Where to Buy.
100W PFC QR USB PD Charger Reference Design
Features
High power density and high efficiency
Low total BOM cost
Passes Safety and EMI test
Supports PD3.0, PPS, QC, QC4.0+, BC1.2
Specifications
Power density: 16W/in3
2 USB-C ports
Foldable input prong
Input: 90-264V, 50/60Hz
Output: maximum of 100W, 5V3A / 9V3A / 12V3A / 15V3A / 20V5A
400W Class D Reference Design
Amplifier
200W/Ch (8Ω), 300W/Ch (4Ω)
< 0.01% THD+N (8Ω, 1W)
+/- 0.5dB Freq. Response (8Ω)
SMPS
Universal AC Line Input
400W Continuous, 550W Peak
High efficiency, no heatsinking
3kW Bridgeless Totem-Pole PFC Reference Design
Features
Digital power control
90-264 Vrms Universal input, 400V DC output
99% peak efficiency, 0.99 power factor
Small form factor
Benefits
High power density: 78 W/in3
Low cost implementation
Excellent thermal performance
EMI compliant
3KW High Efficiency LLC Reference Design
Features
Digital based solution with soft switching LLC resonant converter
Achieves 80+ Titanium with GaN Systems Bridgeless Totem-Pole PFC
High power density
High efficiency
Applications
Data Center Server Power Converter

Telecom SMPS

Industrial SMPS
650 V GaN Isolated Driver Half Bridge
Features
650V 30A and 60A half bridge daughter cards
Easy evaluation of RAA226110 650V Gate Driver
Adjustable Turn-on Slew Rate for EMC (300mA ~ 1A)
Integrated VGS regulation and 1MHz+ range
Typical Applications
Data Center and 5G power supplies
PV Inverters and Energy Storage Systems
Motor Drives
Features
30 W/in3 power density
Fast-switching and high-efficiency
Ultra-small Form Factor
Applications
Gaming Notebook PC & Console
Virtual Reality system
4K HDTV external adapter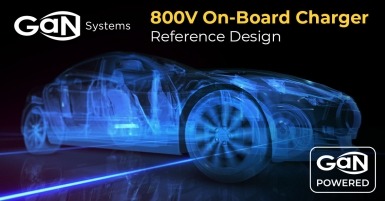 GaN OBC Changes the Game for EV Automotive Applications OTTAWA, Canada – March 20, 2023 – APEC - GaN Systems, the global…
https://gansystems.com/wp-content/uploads/2023/03/800V-OBC.jpg
628
1200
Tyler Angelo
https://gansystems.com/wp-content/uploads/2018/02/gan-systems-logo-fc-340x156.png
Tyler Angelo
2023-03-20 07:00:48
2023-03-17 15:53:30
GaN Systems Unveils Revolutionary New GaN-Based 800V On-Board Charger (OBC) Reference Design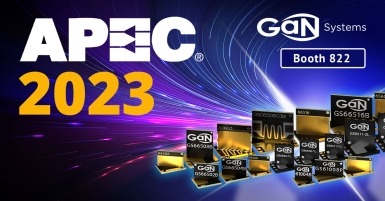 At APEC 2023, GaN Systems Showcases Innovative Solutions Across Targeted Markets. Fast-Charging GaN Chargers, Best-Sounding…
https://gansystems.com/wp-content/uploads/2023/03/APEC-2023-v3.jpg
628
1200
LaunchSnap
https://gansystems.com/wp-content/uploads/2018/02/gan-systems-logo-fc-340x156.png
LaunchSnap
2023-03-08 09:47:54
2023-03-13 01:08:09
APEC 2023: What's New in GaN?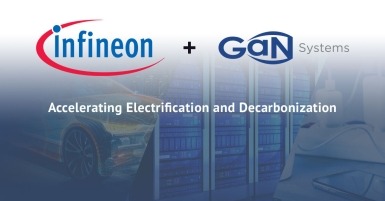 Joint news release by GaN Systems and Infineon Technologies Munich, Germany, and Ottawa, Canada – 02 March, 2023 – Infineon…
https://gansystems.com/wp-content/uploads/2023/03/gs-infineon-1200x628-v7-post.jpg
628
1200
Tyler Angelo
https://gansystems.com/wp-content/uploads/2018/02/gan-systems-logo-fc-340x156.png
Tyler Angelo
2023-03-02 13:04:57
2023-03-02 22:16:14
Infineon to acquire GaN Systems, strengthening its GaN portfolio and further reinforcing its global leadership in Power Systems
Mary Placido
Trier + Company for GaN Systems