Key Takeaways from APEC 2023: It's All About GaN
By Paul Wiener, Vice President Strategic Marketing, GaN Systems
The 2023 Applied Power Electronics Conference (APEC) was an outstanding event, bringing together a diverse global audience showcasing the latest innovations in power electronics. 
We were thrilled to witness a significant rise in attendance by system architects, design engineers, and business leaders at APEC this year. The keynotes and plenary sessions set the stage for intriguing and thought-provoking views on energy, energy sources, magnetics, plasma, and the journeys required to achieve a sustainable planet. As usual, the technical and industry sessions did not disappoint. Problem-solving and innovation continue to be key drivers in the power industry. Additionally, the poster sessions provided an exciting insight into different options for tackling today's power challenges.
Of course, the exhibits are also an essential part of APEC, and this year was no exception. Players spanning semiconductors, magnetics, passive components, packaging, test, and many other power ecosystem companies showed off their wares and announced their newest releases.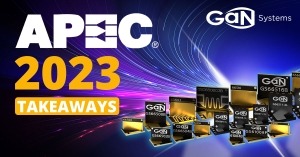 GaN Takes Center Stage
This year, the overwhelming presence of GaN technology in presentations and throughout the exhibition hall was unique to APEC. Clearly, the industry has a sense of FOMO (fear of missing out) buzzing. More than 70 papers at APEC featured GaN—and 40 of those included GaN Systems' products. Similarly, GaN technology was everywhere in exhibits.
At the GaN Systems booth, it was all about our customers and how they solve problems with GaN. In the consumer area, it is now a foregone conclusion that GaN chargers will power mobile phones and laptops, which was highly evident at APEC. Similarly, the professional, prosumer, and even consumer audio markets are realizing key value and performance gains with GaN. The enterprise and industrial sectors are also leveraging GaN for gains in their industries, including LED lighting, motor control, micro-mobility, and server power supplies.
The main attraction in our booth was our new 11kW/800V On-Board Charger (OBC) reference design. It is impressively compact, delivering 36% higher power density and 15% lower Bill of Materials (BOM) cost than silicon carbide (SiC) transistors – a killer proposition. People outside of automotive, in the UPS and industrial areas, were also very interested in this solution. Everyone loved the small size.
Looking Ahead
There were three big takeaways from APEC 2023:
First, I continue to admire the high level of innovation coming from today's young engineers—keep it up! We need to solve today's energy and environmental crises.
Second, in this post-pandemic time, it was great to see old and new colleagues and friends, maximizing face time with people; I cherish those 3D experiences compared to seeing someone on a screen.
And lastly, for those who've been in the industry awhile, we have all been to many APEC events. It has been wonderful to watch the transition from "What is GaN?" "Does it work?", "Does it deliver value?" to the present when those questions are no longer asked. Now, conversations are about how our customers use GaN, and they want to know what's next from us. For those who haven't brought GaN into their power designs, it is clear that FOMO has set in.
If you missed what GaN Systems shared at APEC, contact us here.
See you next year in Long Beach, February 25-29, 2024.
https://gansystems.com/wp-content/uploads/2023/04/APEC-2023-takeaways.jpg
628
1200
Tyler Angelo
https://gansystems.com/wp-content/uploads/2023/10/gan-logo-infineon-tag-fc.png
Tyler Angelo
2023-04-06 07:00:38
2023-06-20 10:49:12
Key Takeaways from APEC 2023: It's All About GaN