Key Takeaways from Asia Charging Expo Spring: The Expanding Markets for GaN Power Semiconductors
The recent Asia Charging Expo (ACE) Spring, one of Asia's notable power electronics technology exhibitions, was attended by over 200 leading semiconductor companies, including GaN Systems.
This year's ACE Spring showcased the newest developments in power management ICs, power electronics, passive components, fast and wireless charging for consumer electronics, and other new energy applications like portable power supplies, server PSUs, and EVs.
With the lifting of the strict zero COVID policy in China early this year, we were excited to see a healthy comeback of visitors—more than 2,000 industry professionals in R&D, system integration, procurement, and sales and marketing attended the event.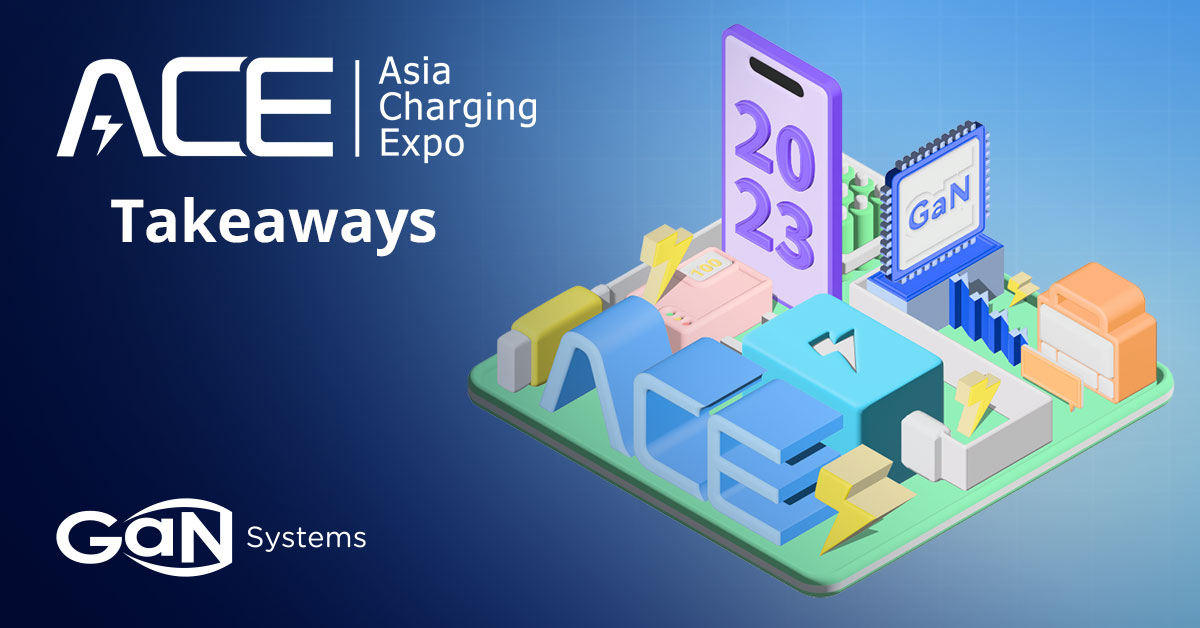 Consumer Electronics Dominate the Growth While the Applications Base Widening
As the world has become more eco-conscious, today's R&D efforts in consumer electronics are centered around both system-level performance and sustainability.
At ACE Spring, there was a significant emphasis on GaN replacing Si in consumer power supply applications. The event was marked with announcements about new fast chargers with breakthrough output power wattages and sleek designs. Additionally, the co-located Asia Portable Power Conference was one of the biggest attractions on the show floor. The rising demand for consumer and commercial portable power stations opens a door of opportunity for GaN to deliver unprecedented benefits in shrinking sizes and improve energy efficiency.
At the GaN Systems booth, visitors were inspired by the showcased customer demos from worldwide consumer electronic brands like Dell, Samsung, and Razer leverage the high-performance advantages of our GaN power transistors for smaller, lighter, and more powerful and efficient fast chargers. GaN-based designs strike a win/win result for these notable brands in meeting decarbonization targets and customer expectations.
Although consumer fast-charging technology has been the core of ACE shows, we also received many inquiries for GaN applications in titanium-rated power supplies for data centers, onboard chargers (OBCs), and DC/DC converters for EVs this year. A technology shift from Si and SiC to GaN is happening across many market applications. This shift is also happening in emerging markets like micro-mobility, robots, motor drivers, etc.
Key Takeaways
GaN enables high power density designs with superior switching frequency and loss performance. As today's electronics are required to process more power-hungry tasks while reducing carbon footprints, GaN provides clear benefits in many target markets, and the adoption is accelerating.
GaN is moving from niche to mainstream at an excitingly fast pace, and GaN Systems offer turnkey solutions that enable a smooth transition and quick time-to-market.
If you missed us at the ACE Spring, contact us to learn more about our comprehensive product portfolio and design resources.
https://gansystems.com/wp-content/uploads/2023/04/ACE-spring2023-takeaways-en.jpg
628
1200
Emmy Yi
https://gansystems.com/wp-content/uploads/2023/10/gan-logo-infineon-tag-fc.png
Emmy Yi
2023-04-14 09:24:17
2023-06-20 10:49:20
Key Takeaways from Asia Charging Expo Spring: The Expanding Markets for GaN Power Semiconductors