GaN Systems Introduces 4th Generation GaN Power Platform – Raising the Bar for Efficiency and Fueling Accelerated Global Adoption of GaN
Key Takeaways
GaN Systems releases its highly rated Gen4 GaN power platform, enabling customers to achieve new power efficiency and size reduction levels.
With its industry-leading figures of merit, Gen4 further positions GaN Systems as the worldwide go-to supplier for GaN power.
Gen4 delivers the world's best switching and conduction loss performance – advancing GaN value in consumer electronics, data centers, solar energy, industrial applications, and electric vehicles.
Efficiency and power density improvements with Gen4 unlock additional total system cost savings compared to other GaN providers and against Silicon and Silicon Carbide alternatives.
Gen4 cements GaN Systems as the most cost-effective choice for power conversion and is the foundation for groundbreaking industry advancements.
OTTAWA, Canada – Sept. 27, 2023 – GaN Systems, the global leader in GaN power semiconductors, today announced the introduction of its groundbreaking 4th generation GaN power platform. This state-of-the-art technology sets a new power efficiency and compactness standard, delivering an impressive step-function performance boost and industry-leading figures of merit. For example, with GaN Systems Gen4 in an artificial intelligence (AI) server rack, 3.2kW power supplies at 100W/in3 in 2022 are now achieving 120W/in3 with efficiencies above Titanium levels. Gen4 will revolutionize power markets, including consumer electronics, data centers, solar energy, industrial applications, and automotive.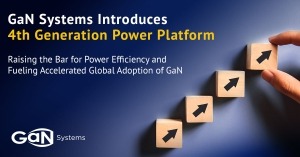 The Gen4 platform also delivers more total bill of material cost savings compared to traditional Silicon and Silicon Carbide solutions, making GaN Systems' technology a powerful choice for businesses seeking to enhance their competitive advantage.
"Our lead customers have already realized the benefits of our Gen4 platform," stated Jim Witham, CEO of GaN Systems. "This platform is a testament to our ongoing commitment to continuously delivering superior performance advantages and next-generation levels of efficiency. GaN Systems, in strategic collaboration with industry leaders like TSMC, has invested significantly to meet the ever-evolving demands of our customers. We are pioneering a transformation in product offerings, packaging innovations, enriched functionalities, and unparalleled performance across our markets."
A Huge Leap for Power Electronics Technology
The Gen4 power platform boasts the following benefits:
>20% improvement in input and output figures-of-merit translates into reduced losses, enhanced efficiency, and more cost-effective solutions.
Increased granularity in device specification, combined with a wide range of packaging options, including PDFN, TOLL, TOLT, and Embedded – allowing the correct Rds resistance and package combination for each application, consequently optimizing electrical and thermal system performance.
700V E-mode with the industry's highest transient voltage rating, 850V, significantly enhancing total system reliability and robustness. This rating enables the semiconductor components to withstand user environment anomalies, such as voltage spikes, ensuring uninterrupted and dependable performance.
On-state resistance ranges enable power systems from 20W to 25,000W.
For more information, visit https://gansystems.com/gan-transistors/gen-4/
https://gansystems.com/wp-content/uploads/2023/09/c-series-announcement-v4.jpg
628
1200
Tyler Angelo
https://gansystems.com/wp-content/uploads/2023/10/gan-logo-infineon-tag-fc.png
Tyler Angelo
2023-09-27 07:00:35
2023-09-27 07:02:15
GaN Systems Introduces 4th Generation GaN Power Platform – Raising the Bar for Efficiency and Fueling Accelerated Global Adoption of GaN