Key Takeaways from SEMICON China 2023: Artificial Intelligence, Electric Vehicles and Sustainability
The semiconductor industry is demonstrating resilience in the face of global supply chain challenges and pandemic-era complications. This was on full display at SEMICON China 2023, the premier annual event for the worldwide semiconductor industry held in Shanghai, attracting over 100,000 attendees and hosting 1,200 exhibitors—an unprecedented record.
The recurring themes showcased the latest development in high-priority areas, including artificial intelligence and electric vehicles. As the momentum of electrification and digitalization continues, power semiconductors, especially wide-bandgap semiconductors like GaN and SiC, took center stage.  Here are three key takeaways from SEMICON China 2023.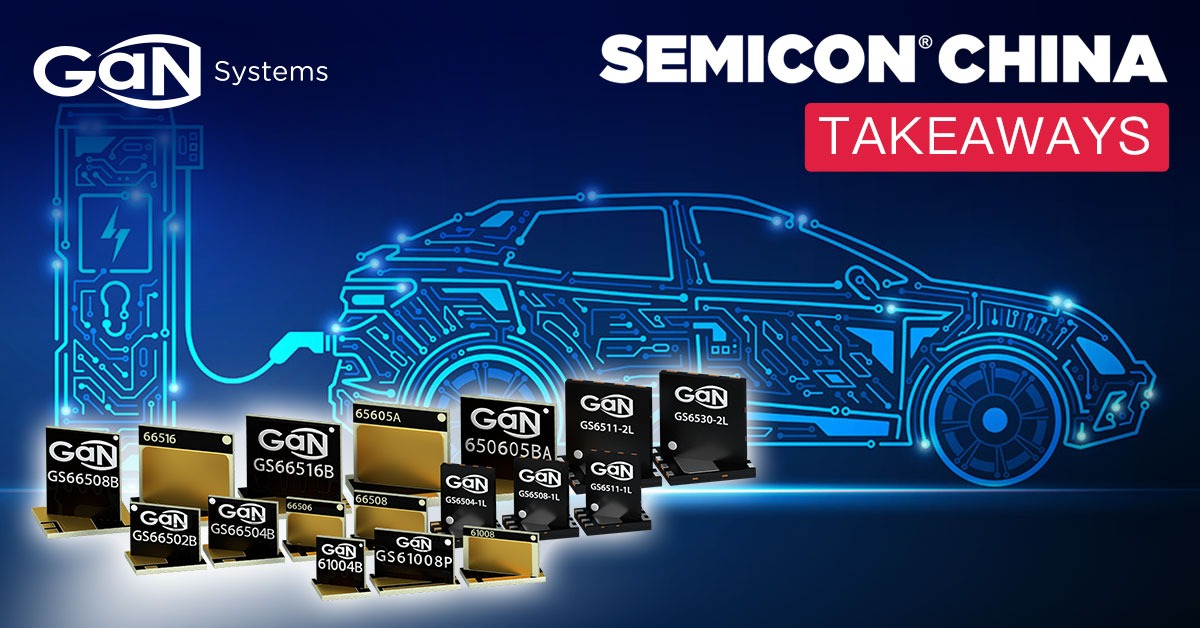 #1 Takeaway – Efficiency in the Factory of Tomorrow
As the semiconductor industry increasingly embraces automation, the rising number of motor drives in all forms of machinery presents massive energy-saving opportunities. Improvements in motor drive efficiency significantly reduce overall electricity consumption and wasted power.
The growing adoption of AI in the semiconductor industry generates vast amounts of data. Edge computing has emerged as a preferred way as it processes data locally and provides real-time insights for production optimization. However, the increased computing power brings power consumption to a new level. At this year's expo, we noticed that more attention was drawn to solutions that help semiconductor manufacturers implement AI-driven applications like machine learning while supporting their sustainable development goals.
#2 Takeaway – The Rise of the Power Semiconductors Killer Application
The worldwide sales of electric vehicles surpassed 10 million in 2022, and International Energy Agency (IEA) predicts an additional 35% growth this year. This drastically increasing demand for EV power electronics propels investments in new-generation power semiconductors, improving capacity, reliability, performance, and cost-effectiveness.
Although the consumer electronics sector still accounts for the most significant portion of GaN power semiconductor revenues, we saw a focus shift in this year's Power and Compound Semiconductor Forum as industry key players demonstrated their ambitious product roadmaps for electric vehicle applications.
#3 Takeaway – The Urgency of Decarbonization
As an instrumental enabler in green technology development and energy efficiency of electronics, semiconductors are at the core of China's wide-ranging targets for climate mitigation, the so-called "dual carbon" goals, frequently emphasized during speeches at this year's SEMICON China.
Meanwhile, the energy- and resource-consuming semiconductor fabrication process calls for industry leaders to take immediate actions to minimize environmental impacts. Switching to renewable energy is one of the main pledges.
Improving energy efficiency and facilitating renewable energy developments are two critical enablers of keeping the rise in average global temperature below 1.5 °C. Wide-bandgap power semiconductors mainly address the power system design challenges around energy efficiency as the world transitions from fossil-based energy to renewable sources.
Summary
The widening adoption of GaN across multiple applications for enhanced efficiency, power density, and cost-effectiveness has sustained strong momentum in the power semiconductors sector, even amid economic headwinds. We're pleased to witness that the SEMICON China show facilitates cross-industry cooperation while encouraging more young talents to enter the field.
https://gansystems.com/wp-content/uploads/2023/07/semicon-china-2023-takeaways-en.jpg
628
1200
Emmy Yi
https://gansystems.com/wp-content/uploads/2018/02/gan-systems-logo-fc-340x156.png
Emmy Yi
2023-07-19 20:19:40
2023-07-19 20:19:40
Key Takeaways from SEMICON China 2023: Artificial Intelligence, Electric Vehicles and Sustainability