Illuminating the Future: GaN Enables Sustainability in LED Lighting
By Paul Wiener, VP Strategic Marketing, GaN Systems
With the increasing global population and the subsequent surge in residential and commercial construction, power demand is at unprecedented levels. Nations worldwide struggle to meet this excessive demand, leading to a critical power crisis. The crisis has prompted local and federal authorities to scrutinize energy efficiency and advocate for sustainable solutions to reduce overall energy consumption. Consequently, companies constantly seek innovative technologies to address this challenge.
As such, the demand for sustainable lighting solutions has reached an all-time high. We've seen a dramatic surge in the adoption of LED lighting in consumer, commercial, and industrial segments.
Traditional lighting systems can consume up to 20%-25% of energy expenditure, and LED lights can reduce such costs. Emphasis on eco-friendly and energy-conservation lighting solutions will drive the growth of LED lighting. For instance, analyst figures indicate that the LED lighting market will reach USD 264.08 billion by 2029.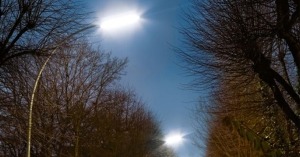 Gallium Nitride (GaN) based power supply drivers are a game-changer in LED lighting efficiency. GaN significantly reduces the size and weight of the light lamps while minimizing energy costs, making it a perfect fit for a world that emphasizes sustainability and eco-friendly practices.
GaN-based LED lighting presents critical advantages over traditional solutions, making them a top choice for energy-conscious industries. Benefits include:
Substantial energy cost savings. Traditional lighting systems, such as incandescent or fluorescent bulbs, are often energy-hungry and can contribute to increased energy expenditures. In contrast, GaN-based LED lighting is highly efficient and consumes far less power while delivering superior illumination. These benefits reduce energy bills for industrial and commercial users, which aligns perfectly with the goal of energy conservation.
Size and weight reduction. GaN-based LED lighting significantly reduces size and weight compared to conventional lighting systems. The GaN-powered solution's compact nature makes it ideal for various applications, particularly in environments where space is limited. Additionally, its lightweight construction simplifies installation processes, making it easier for power system engineers to implement this lighting in different settings.
Industry Leaders Adopting GaN for Sustainable and Efficient Lighting
Leading companies acknowledge these benefits and are delivering GaN-based LED solutions. For example, Philips provides significant cost-saving LED lamps with products like its TrueForce Core LED Road family. These GaN-powered lamps offer all the benefits of LED lighting while providing instant savings with low investment. These solutions offer the same lamp size and light distribution and can easily retrofit existing lamps while delivering a similar look and feel.
Benefits include:
High efficiency thanks to an advanced driver design based on GaN technology
60% energy savings through the benefits of a high-efficacy LED solution
Lower initial investment, shorter payback time: < 14 months
Lifetime of 25,000 hours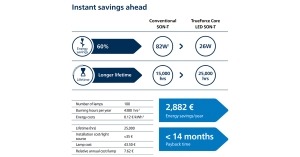 Philips SON-T tubular 17W and 26W LED bulbs also feature GaN power transistors. These products have a groundbreaking design that introduces an innovative GaN-based driver built into the LED bulb, solving the technical problems of applying traditional glasswork in a high-power LED bulb application. The result is a lower cost, higher power, and more energy-efficient LED lighting solution.
Additionally, another example from LUNGO delivers an 80W LED corn bulb lamp with a GaN LED driver that is 1/10th the size of silicon. Overall, the product delivers increased reliability and a longer lifetime in a much smaller form factor. These are just a few examples of companies integrating GaN to help create a more sustainable world.
GaN-based LED lamps are exceptionally prevalent in various settings, such as:
Public Road Lighting: GaN-based LED lighting offers enhanced visibility and energy efficiency for street lighting, contributing to safer and more sustainable urban environments.
Public Urban Spaces: Parks, squares, and atriums can benefit from GaN-based LED lighting solutions that provide superior illumination while conserving energy.
Warehouses: This type of lighting is ideal for lighting large warehouses efficiently, enhancing visibility while minimizing operational costs.
Parking Lots: GaN-based LED lighting can ensure well-lit and secure parking spaces, reducing energy consumption and maintenance requirements.
Retail Stores: Major retail outlets, like Costco, enhance their visual appeal and achieve substantial energy savings with GaN-based LED lighting.
GaN-based LED lighting is transforming the electronics industry and providing an effective solution to the increasing demand for energy-efficient lighting systems. With the focus on energy conservation gaining momentum on both local and federal levels, these next-generation lighting solutions are timely and indispensable—reflecting innovations that will shape a sustainable and more energy-conscious future.
https://gansystems.com/wp-content/uploads/2023/09/gan-sustainability-led-lighting.jpg
628
1200
Tyler Angelo
https://gansystems.com/wp-content/uploads/2018/02/gan-systems-logo-fc-340x156.png
Tyler Angelo
2023-09-06 09:23:49
2023-09-11 08:23:59
Illuminating the Future: GaN Enables Sustainability in LED Lighting