GaN Systems to Showcase the Power of GaN at Data Center World 2023
Profitability Meets Sustainability Initiatives as the Industry Moves to GaN Adoption
OTTAWA, Canada – May 2, 2023 – GaN Systems, the global leader in GaN (gallium nitride) power semiconductors, today announced that it will be exhibiting innovative GaN solutions and presenting "Efficiency and Profitability in the Data Center with GaN" at Data Center World, the leading global conference for data center facilities and IT professionals, on May 8-11, at the Austin Convention Center in Austin, Texas.
Today's data centers account for two percent of the world's energy use with ever-increasing costs. Offsetting these trends, for each set of 10 racks in the data center, GaN-based power supplies can increase profits by $3 million, decrease data center operating expenses, and reduce CO2 emissions by more than 100 metric tons per year.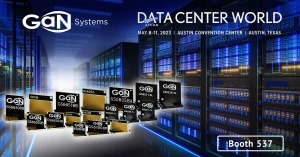 At Data Center World, GaN Systems will showcase Cutting-Edge Power Supply Unit (PSU) Solutions enabling data centers to enhance profitability, reduce operating costs, and reduce energy consumption to contribute to a more sustainable future. Power supplies developed with GaN Systems transistors have double the power density of legacy PSUs and enable up to 20% energy savings in data centers.
Solutions on display at Data Center World will include:
Julian Styles, Director Business Development, GaN Systems, wiltl deliver a Solution Spotlight: Bringing Efficiency and Profitability to the Data Center with GaN. The session will occur in the Data Center Live Theater, Expo Hall, on Thursday, May 11, from 10:40 am – 11:10 am.
"The increasing demand for more data and power combined with the critical focus on sustainability is driving massive changes in the data center industry," said Jim Witham, CEO of GaN Systems. "We are delighted to be at Data Center World to showcase our latest innovations for the data center ecosystem, where we see customers increasingly switching to GaN power transistors to take advantage of their undeniable operating, financial, and environmental benefits."
Visit GaN Systems at Data Center World 2023
GaN Systems will demonstrate the latest designs and products in Booth 537. Contact us here to meet with GaN Systems at the conference or request more information.
https://gansystems.com/wp-content/uploads/2023/05/data-center-world-2023.jpg
628
1200
Tyler Angelo
https://gansystems.com/wp-content/uploads/2023/10/gan-logo-infineon-tag-fc.png
Tyler Angelo
2023-05-02 07:00:21
2023-08-08 15:46:20
GaN Systems to Showcase the Power of GaN at Data Center World 2023