GaN Systems Verifies Continuity of Supply of Leading GaN Power Products
OTTAWA, Canada – July 5, 2023 – GaN Systems, a global leader in GaN (gallium nitride) power semiconductors, today has confirmed its continuity of supply of leading GaN power products.
On July 3, 2023, China's Ministry of Commerce (MOFCOM) and General Administration of Customs (GAC) announced that export control measures on gallium- and germanium-related semiconductor raw materials would be put in place starting Aug. 1. GaN Systems has confirmed with its GaN-on-Silicon wafer supplier that the announced export restrictions on gallium and germanium raw materials will not directly impact wafer production given multiple sources of gallium worldwide.
Therefore, GaN Systems does not see any major impact on material supplies which would disrupt its ability to supply product to its customers.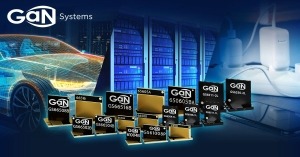 About GaN Systems
GaN Systems is the global leader in GaN power semiconductors with the most extensive transistors portfolio that uniquely addresses the needs of today's most demanding industries, including consumer electronics, data center servers, power supplies, renewable energy systems, industrial motors, and automotive electronics. As an industry-leading innovator, GaN Systems makes it possible to design smaller, lower cost, more efficient power systems. The company's award-winning products provide system design opportunities free from the limitations of yesterday's silicon. By changing the transistor performance rules, GaN Systems enables power conversion companies to revolutionize their industries and transform the world. For more information, please visit: www.gansystems.com or on Facebook, Twitter and LinkedIn and scan this QR code for our WeChat.
Cautionary Language Concerning Forward-Looking Statements
This press release contains forward-looking statements relating to expectations, plans, and/or prospects.  These forward-looking statements, including all of the statements above this paragraph, are based upon the current expectations and beliefs of GaN Systems' management only as of the date of this release, and GaN Systems disclaims any obligation to update these forward-looking statements.  These forward-looking statements are subject to certain risks and uncertainties that could cause actual results to differ materially from those described in the forward-looking statements including, without limitation, the risk of adverse and  unpredictable macro-economic and/or geopolitical conditions, the risk of regulatory changes, the risk of changes in the international trade relationships between China, Taiwan, the USA, Canada, and other countries relevant to the supply of GaN Systems' products.
https://gansystems.com/wp-content/uploads/2023/07/china-gallium-export-control.jpg
628
1200
Tyler Angelo
https://gansystems.com/wp-content/uploads/2018/02/gan-systems-logo-fc-340x156.png
Tyler Angelo
2023-07-05 14:36:45
2023-07-05 14:37:58
GaN Systems Verifies Continuity of Supply of Leading GaN Power Products