Article: Rethinking What's 'Smart' For The Next Generation Smart Home
This piece from April 2, 2020, by Jim Witham is published in full at Forbes.com. 
Too often, the fact that a technology merely exists drives the direction of implementation, rather than focusing on developing technologies in response to real and important human needs. This has often been the case for the "smart home" in its various stages of automation and intelligence. What would a "smarter home" look like if we more closely consider the interrelated nature of the technologies it requires versus looking at each in isolation? And what if we thought about those technologies in relationship to some of the most important social, economic and environmental needs of our time?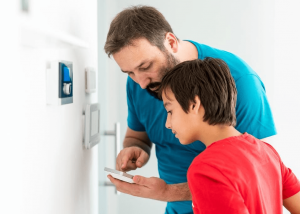 Three important categories of technology are deeply interconnected in creating the "smarter home" future. Each is connected to an important social trend.
1. Connectivity
Connectivity is the basic building block of the smarter home. It is what enables the home to become like an invisible and always-adapting computer linked to an increasingly valuable data– and energy-hungry ecosystem of smart devices. But not all communities have been treated equitably in the connectivity story to date. Some gaps result from infrastructure inefficiency that can be addressed by new technologies, such as 5G, while other inequities that originate in policies and attitudes, internet deserts, and data divides are real limitations to a future of equality and opportunity in smarter cities and homes.
5G can be a transformative technology for connecting the smarter home with fast bandwidth and reduced latency in a wire-free setting, with greater energy efficiency and ease and economy of installation. Wireless power is an important complementary technology to 5G because it removes the time, cost and location barriers of wired approaches. To solve the last 100 feet challenge of bandwidth distribution in a 5G network, outside access units or 5G base stations are deployed on utility poles or rooftops in close proximity to the passing fiber backhaul. This creates an area that can be covered by the network. Individual homes then use 5G customer premise equipment (similar to a cable modem) to connect online. Making these hardware devices as energy efficient as possible is important.
Read the rest of Jim Witham's Forbes Technology Council article at Forbes.com.
https://gansystems.com/wp-content/uploads/2020/04/Annotation-2020-04-08-114153.png
683
956
LiquidWeb
https://gansystems.com/wp-content/uploads/2023/10/gan-logo-infineon-tag-fc.png
LiquidWeb
2020-04-08 16:46:02
2023-08-01 11:26:11
Article: Rethinking What's 'Smart' For The Next Generation Smart Home