Power Engineers Compete for the 2023 "GaN Systems Cup"
Prestigious Design Competition Launches to Spark Innovation in Sustainable Technologies
OTTAWA, Canada – May 24, 2023 – GaN Systems, the global leader in GaN (gallium nitride) power semiconductors, announced that the 9th annual "GaN Systems Cup" Power Electronics Application Design Competition is underway. Over the years, the competition has built a reputation in China's power electronics academic field with the number-breaking participating teams—a stunning sixty-eight teams from the top forty-eight universities submitted design proposals this year. The teams are challenged to design a high-efficiency and high-power density three-phase inverter using GaN Systems power transistors.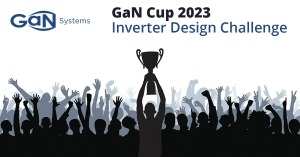 Hosted by the China Power Supply Society (CPSS) and China University of Mining and Technology, the 9th GaN Systems Cup inauguration ceremony was attended by more than 700 professors, students, and industry experts in presence in Xuzhou, China, or through live streaming. In the opening keynote, Andy Chuang, Vice President of Business Development of GaN Systems, discussed the importance of higher-performing power electronics—and the role of GaN technology in driving critical improvements to accelerate a future of zero emissions.
This year's GaN Systems Cup encourages students to put academic knowledge into practice and develop a high-efficiency and high-power density three-phase inverter using GaN Systems' power transistors to meet the following evaluation criteria:
A low-cost design with a maximum 4-layer structure
500W output power, 350VDC input voltage, and 0-220VAC output voltage
Harmonic Distortion (THD) <5% under 50Hz output frequency
Efficiency >93%, power density >6.6W/in3, and be able to run continuously for 30 minutes under the 0-40°C range
GaN power electronics are at the heart of sustainable technologies and products currently sparking a revolution in energy efficiency across power management applications, accounting for multi-billion market potential. They enable smaller, more efficient, and more power-dense designs for EV powertrains, data center power supplies, renewable energy systems, industrial motors, consumer fast chargers, and more.
"GaN adoption is accelerating in consumer, data center, industrial and automotive applications. Customers are taking advantage of GaN's ability to shrink system size, minimize power loss and reduce total system cost," said Jim Witham, CEO of GaN Systems. "We're proud to support events like this to encourage more young talented engineers with experimental spirits and innovative mindsets to redefine excellence for the future of power electronics."
The "GaN Systems Cup" has received primary sponsorship from GaN Systems for nine consecutive years and is jointly supported by Ningbo Xici Electronic Technology Co., Ltd., Hunan Aihua Group, Edex Electronics Co., Ltd., and Minye Science and Technology Information (Shanghai) Co., Ltd this year. For more information, please visit the China Power Supply Society website.
https://gansystems.com/wp-content/uploads/2023/05/thumbnail_image002.jpg
628
1200
Emmy Yi
https://gansystems.com/wp-content/uploads/2023/10/gan-logo-infineon-tag-fc.png
Emmy Yi
2023-05-24 07:00:02
2023-06-20 10:50:49
Power Engineers Compete for the 2023 "GaN Systems Cup"