"GaN Systems Cup" Winners Recognized at China Power Supply Society Annual Conference 2022
GaN Systems, the global leader in GaN power semiconductors, today recognized the winners of the 8th "GaN Systems Cup" Power Electronics Application Design Competition, concurrent with the 2022 China Power Supply Society Annual Conference (CPSSC) from Nov. 4-7 in Xiamen, China. A Huazhong University of Science and Technology team demonstrated a superior prototype design of a high-efficiency and high-power density single-stage photovoltaic inverter using GaN Systems' power transistors and recognized the grand prize.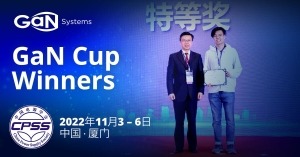 The competition, first launched by the China Power Supply Society (CPSS) in 2015 as an exploratory engineering practice activity for college students across the country—is the highest-level college student competition in the country's power electronics field. The participation was record-high this year—a total of 64 teams from 46 colleges and universities submitted project proposals.
From the larger group of teams that entered the preliminary round, 16 were selected as finalists, and eight were ultimately honored with prizes. In addition to the Grand Prize winner, two teams from Hefei University of Technology and Nanjing University of Science and Technology won the First Prize, three teams from Heilongjiang University of Science and Technology, Hunan University, Hangzhou Dianzi University won the Second Prize, and two teams from Yanshan University and Kunming University of Science and Technology won the Third Prize.
This year's topic was more challenging than in previous years. Students were required to develop a GaN-based photovoltaic inverter that meets rigorous performance indicators of output voltage stability, harmonics, input current ripple and more.
"We believe a continuous stream of new talent entering the electronics field is the driving force of power semiconductor technology advancement," said Paul Wiener, vice president of strategic marketing, GaN Systems. "The GaN Cup is an invaluable platform to bridge academia and industry, preparing students to move ideas from lab to market. It's always a delight to support the event and see so many next-generation engineers showing a high level of determination in sharpening their knowledge and experiences in GaN power semiconductors."
Aside from the GaN Cup challenge, GaN Systems' experts inspired a sizeable crowd to hear about the future of GaN power semiconductors. Our technical director Yunsheng Qu discussed the revolutionary advantages of GaN power transistors for data centers.
"GaN-based power transistors offer faster switching speeds, superior conductivity, and better performance than legacy silicon-based power transistors. The adoption of GaN power semiconductors drastically improves power distribution and conversion in the data center, reducing reliance on cooling systems," Qu stated in his speech. "Driven by the commitment to meeting decarbonization goals, the data center is at the forefront of shifting to more energy-efficient solutions. GaN power transistors can save up to 20% of energy consumption."
In another session, GaN Systems' senior application director Jeff Chou shared inclusive insights on how GaN power semiconductors mitigate concentrated heat with advanced LLC magnetics design.
"Thermal design is an imperative threshold to increase the power density of a power adaptor while maintaining a small form factor," Chou indicated in his speech. "With GaN power transistors' advantages in switching speeds and power efficiency, GaN-based power adaptors will achieve a 0.4% full load efficiency improvement and more than 20°C temperature reduction."
We want to thank everyone for their participation. To learn more about our products and solutions, please visit our website or contact us.
https://gansystems.com/wp-content/uploads/2022/11/gan-cup-2022-winner.jpg
628
1200
Tyler Angelo
https://gansystems.com/wp-content/uploads/2018/02/gan-systems-logo-fc-340x156.png
Tyler Angelo
2022-11-28 10:13:59
2023-06-20 10:43:53
"GaN Systems Cup" Winners Recognized at China Power Supply Society Annual Conference 2022