Live Life Connected with GaN Powered Class D Audio
Live Life Connected was the theme at the recent CEDIA Expo 2021, a global trade event for the $14 billion smart and home technology industry. This year's Expo had a heavy focus on finding better ways to connect, especially at home, with participants showcasing a full range of consumer solutions, from high-performance audio systems to the latest in smart home entertainment technologies.
Home audio solutions were one of the 'stars' of the event, with a top CE Pro BEST award going to a real-time, interactive immersive audio solution – which highlights the continued significance of a high audio quality experience. This comes as no surprise, due in part to the way that COVID-19 has created a new "at home" normal for many activities, from working conditions to schooling to leisure endeavors. More people are critically evaluating the in-home audio solutions they use daily, whether for streaming a new movie release, listening to music, or gaming with online friends.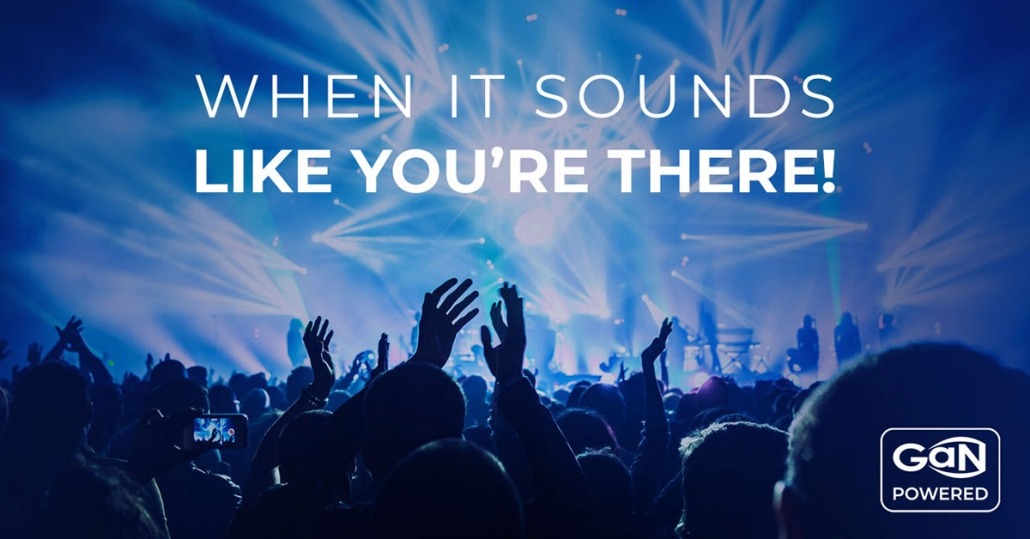 High-performance home audio systems are a "must-have" for all of these activities, driving the adoption of high-quality audio solutions. According to one report1, the market for Class D audio amplifiers is now valued at more than $2.4B, with projected growth to approx. $US 4.5B by 2028. This is due, in part, to the growing use of GaN transistors used to power these audio solutions. According to the report, "The development of gallium nitride (GaN) power transistors has enabled manufacturers to offer high-performance home theater systems, with less cost of production. The GaN transistors exhibit a high conversion rate of energy use, and they are smaller than silicon MOSFETs, which saves board space cost by eliminating the output LC filter section."
GaN transistors offer another big benefit: they provide significant sound quality benefits over traditional silicon alternatives, including less harshness, cleaner highs, better transparency, and greater audio detail. This is partly due to GaN's increased slew rate, reduced ringing, and faster overload recovery. The result is a high-quality amplifier with decreased noise, less distortion, better transient response, and higher bandwidth.
GaN transistors also operate at a much higher frequency, providing fast, clean switching transitions, essentially, the near-ideal square wave signal. These faster switching capabilities result in shorter "dead time," enabling lower crossover distortion and a lower total harmonic distortion (THD) measurement than silicon solutions.
GaN Audio Innovations
Orchard Audio recently launched its Starkrimson Streamer Ultra, a 500W stereo GaN streaming hi-fi audio amplifier. This audio innovation delivers commanding performance in a discreet package, performing the same functions that once required a rack full of components. The amplifier leverages all the benefits of the latest GaN transistors, such as size and weight reduction and increased power, efficiency, and sound quality, providing less harshness, cleaner highs, and better overall transparency and detail with inconsequential noise levels.
In a very different audio implementation, Syng introduced the GaN-powered Syng Cell Alpha wireless speaker. This high-fidelity spatial sound system drives excitement in the home audio marketplace by offering clear, detailed, and immersive sound in a sleek, durable, and functional design. This collaboration between Syng and GaN Systems highlights the full scope of benefits enabled by the use of GaN for home audio applications: audio companies can make vast design improvements, including smaller size, more power, and higher efficiency – while still providing higher audio quality.
GaN is redefining how we approach high-quality audio, and at its current pace of adoption, it is on track to become the de facto standard for Class D audio within the next few years. From improving audio quality performance to increasing energy efficiency and reducing system form factors, GaN is the future of audio – whether you're listening at home, at work, or on the go. Learn more about GaN in audio here.
https://gansystems.com/wp-content/uploads/2021/05/audio-crowd_sounds_GP_2.jpg
628
1200
LaunchSnap
https://gansystems.com/wp-content/uploads/2023/10/gan-logo-infineon-tag-fc.png
LaunchSnap
2021-09-20 09:13:20
2023-06-20 10:10:32
Live Life Connected with GaN Powered Class D Audio