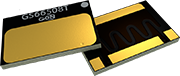 Part Number
GS66508T
Downloads
Datasheet
LTSpice
PSpice
Step File
Allegro Library
Altium Library

Evaluation Boards
GS665MB-EVB
(Mother board)

GS66508T-EVBDB
(Daughter board)

Reference Design
GS66508T-EVBHB
(650 V, 2 kW GaN E-HEMT half bridge)
VDS
650 V E-HEMT
IDS
30 A
RDS(on)
50 mΩ
QG
5.8 nC
Dimensions (mm)
7.0 x 4.5 x 0.54
Cooling
Top-Side
MR QTY
250
TR QTY
3000
MR Size
16 mm x 7″
TR Size
16 mm x 13″
GS66508T
650V Enhancement Mode GaN Transistor
The GS66508T is an enhancement mode GaN-on-silicon power transistor. The properties of GaN allow for high current, high voltage breakdown and high switching frequency. GaN Systems implements patented Island Technology® cell layout for high-current die performance & yield. GaNPX® packaging enables low inductance & low thermal resistance in a small package. The GS66508T is a top-side cooled transistor that offers very low junction-to-case thermal resistance for demanding high power applications. These features combine to provide very high efficiency power switching.
Ultra-low FOM Island Technology® die
Low inductance GaNPX® package
Easy gate drive requirements (0 V to 6 V)
Transient tolerant gate drive (-20 / +10V )
Very high switching frequency (> 100 MHz)
Fast and controllable fall and rise times
Reverse current capability
Zero reverse recovery loss
Small 7.0 x 4.5 mm2 PCB footprint
Dual gate pads for optimal board layout
RoHS 6 compliant
High efficiency power conversion
High density power conversion
AC-DC Converters
Bridgeless Totem Pole PFC
ZVS Phase Shifted Full Bridge
Half Bridge topologies
Synchronous Buck or Boost
Uninterruptable Power Supplies
Industrial Motor Drives
Single and 3Φ inverter legs
Solar and Wind Power
Fast Battery Charging
Class D Audio amplifiers
400 V input DC-DC converters
On Board Battery Chargers
Traction Drive
EVALUATION BOARD: GS665MB-EVB
650 V Universal Motherboard
This universal motherboard can be used with daughter cards (sold separately) to evaluate the entire GaN Systems 650 V family of GaN E-HEMT products.
COMPATIBLE WITH:
GS66504B-EVBDB
GS66508B-EVBDB
GS66508T-EVBDB
GS66516T-EVBDB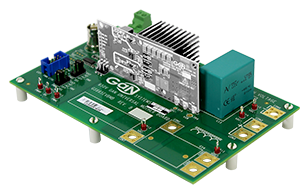 EVALUATION BOARD: GS66508T-EVBDB
650 V GaN E-HEMT daughter board
This product requires a motherboard (GS665MB-EVB)
The GS66508T-EVBDB daughter board consists of two GaN Systems 650V GaN Enhancement-mode HEMTs (part number GS66508T) and all necessary circuits including half bridge gate drivers, isolated power supplies and optional heatsink to form a functional half bridge power stage. It allows users to easily evaluate the GaN E-HEMT performance in any half bridge-based topology, either with the universal motherboard or the users' own system design.
Serves as a reference design and evaluation tool as well as deployment-ready solution for easy insystem evaluation
Vertical mount style with height of 35mm, which fits in majority of 1U design and allows evaluation of GaN E-HEMT in traditional through-hole type power supply board
Current shunt position for switching characterization testing
Universal form factor and footprint for all products
REFERENCE DESIGN: GS66508T-EVBHB
650 V, 2 kW GaN E-HEMT half bridge
REFERENCE ONLY – Out of stock
The GS66508T-EVBHB evaluation board (EVB) is designed to demonstrate the performance of GaN Systems' 650V GaN enhancement mode high electron mobility transistor (E-HEMT) devices. The EVB is a fully functional half bridge power stage consisting of two 650V GaN E-HEMTs (top side cooled GS66508T, 30A/55mΩ), gate drive power supply, half bridge gate drivers and heatsink.
To evaluate the performance of GaN E-HEMT devices in real power circuits, the EVB can be easily configured into any half bridge based topology. The board serves as a reference design for:
Gate driver circuit
Half bridge PCB layout
Thermal management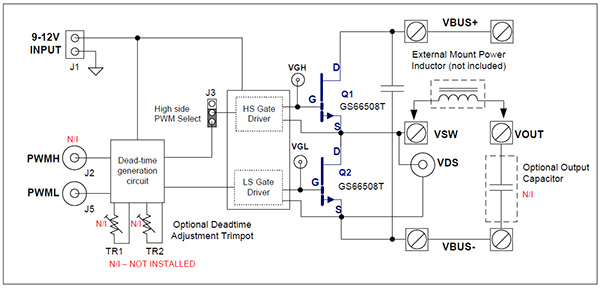 The block diagram of the GS66508T-EVBHB can be seen above. All components are mounted on the top side except for E-HEMTs, Q1 and Q2, which are mounted on the bottom side of the EVB. A heatsink is mounted from the bottom side as well, in order to provide cooling for the two GaN E-HEMTs. The board includes all necessary components for building a half bridge power stage and provides footprints for output power inductors and capacitors to allow users to configure the board into different operational modes.