Four Key Takeaways from APEC 2022
The 37th Applied Power Electronics Conference (APEC), which happened on March 20-24, 2022, in Houston, is the first APEC event to be held in person since the pandemic started. APEC is one of the leading conferences for power electronic professionals, and this year did not disappoint.
Here are our key takeaways from the show.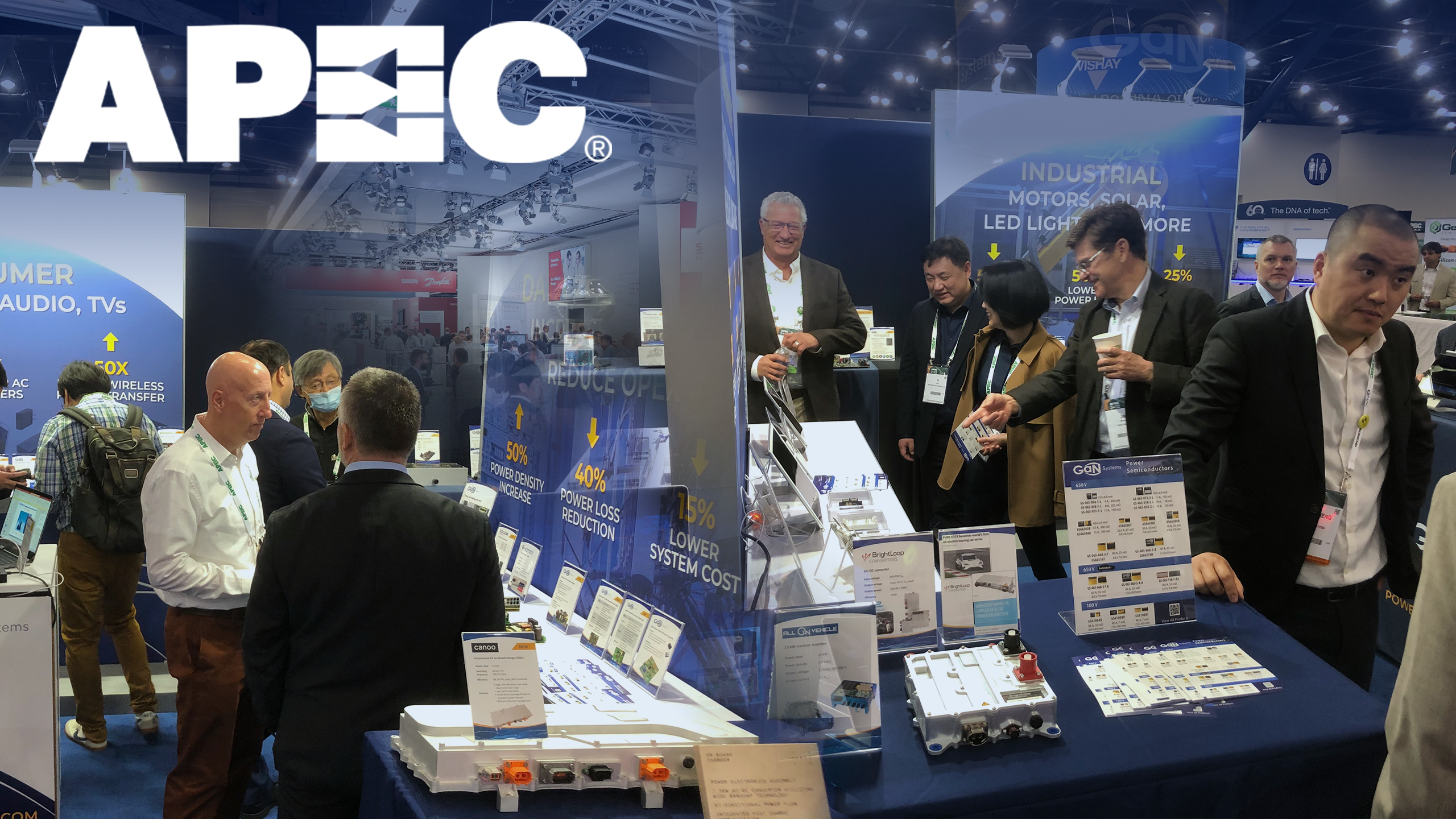 Wide Bandgap, Especially GaN, Continues to Dominate the Power Electronics Conversation
As it has been for the last couple of years, wide bandgap has become the technology of choice for new power electronics designs. The stories, press announcements, seminars, and sessions from APEC support this shift. With huge market and application opportunities and new customer requirements, there's room for many GaN and SiC companies to drive product innovation in power electronics.
As for GaN power transistors, they've not only moved mainstream but have seen massive growth in use across consumer electronics, data centers, automotive, industrial, and renewable energy. One area GaN is dominating is consumer chargers. At the show, we displayed several GaN chargers from leading and innovative brands such as Samsung (see: GaN Systems Powers Samsung Galaxy S22+ and Ultra-Fast Charger with Leading Discrete GaN Solution), Philips, Harman, and Greenworks. At the show, we announced with Rompower the world's smallest 65W and 100W GaN chargers (see: GaN Systems Showcases World's Smallest GaN Chargers at APEC). In consumer electronics, GaN Audio is the next big thing. We displayed the Syng Cell Alpha, which was named one of Time Magazine's 100 Best Inventions of 2021, and there will be more to come next year! The bottom line, if your company isn't using GaN, you may be left behind.
Everybody Has a GaN Story
It takes a village or, in the case of GaN, an ecosystem to spur adoption. Today the supporting infrastructure for GaN has expanded leaps and bounds from years ago, pointing that the market is in full acceptance mode. Magnetics companies, IC controller and driver companies, test equipment companies, and more at the show all had a GaN story and showcased solutions for GaN-based designs and systems. One example is onsemi, which displayed its Bridgeless Totem PFC controllers, demonstrating the latest high-efficiency results obtainable with GaN, in their APEC booth.
Innovation is Blossoming
Wide bandgap technology such as GaN has demonstrated the ability to deliver greater energy conversion efficiency and power density with smaller and lighter power systems, enabling companies to create entirely new classes of products and systems. Within the GaN industry, companies like ours are continuously innovating on performance, package options, and system solution designs.
Clear evidence of a market segment benefiting from GaN innovation is the data center industry. At APEC, GaN Systems showcased data center solutions, including a 2700W power supply from SoluM, a significant supplier to Intel. The high-efficiency design meets 80 PLUS Titanium efficiency standards in a high-density form factor at 82 W/in3 (see: GaN Systems Leads the Data Center Power Revolution). Before GaN, companies developed silicon-based power supplies at around 40 W/in3 and 94% efficiency. Today, companies designing with GaN are reaching power densities of 82 W/in3 and 96+% efficiency, resulting in power supplies half the size and half the power loss compared to silicon-based power supplies. It won't be long before a GaN-based power supply reaches 100 W/in3 and is more than 97% efficient.
It's All About Solutions and Learning "How"
APEC has always been a great platform for conversation and learning all things power electronics. This year, people came looking for solutions. With GaN now widely adopted and accepted as a proven technology, there were very few conversations around GaN usability and reliability – topics that GaN companies faced in the early days. APEC 2022 was all about how to best implement GaN in their designs and how other companies were using it in their products. These conversations point to how the power industry is rapidly transitioning to GaN, which is very exciting for GaN Systems and the entire GaN ecosystem.
https://gansystems.com/wp-content/uploads/2022/04/GSAPEC2022.png
1440
2560
LaunchSnap
https://gansystems.com/wp-content/uploads/2023/10/gan-logo-infineon-tag-fc.png
LaunchSnap
2022-04-11 03:18:12
2023-06-20 10:32:47
Four Key Takeaways from APEC 2022